World's Most Famous Ancillary Upsell Line Just Got Better (Digitalized)
Iztok Franko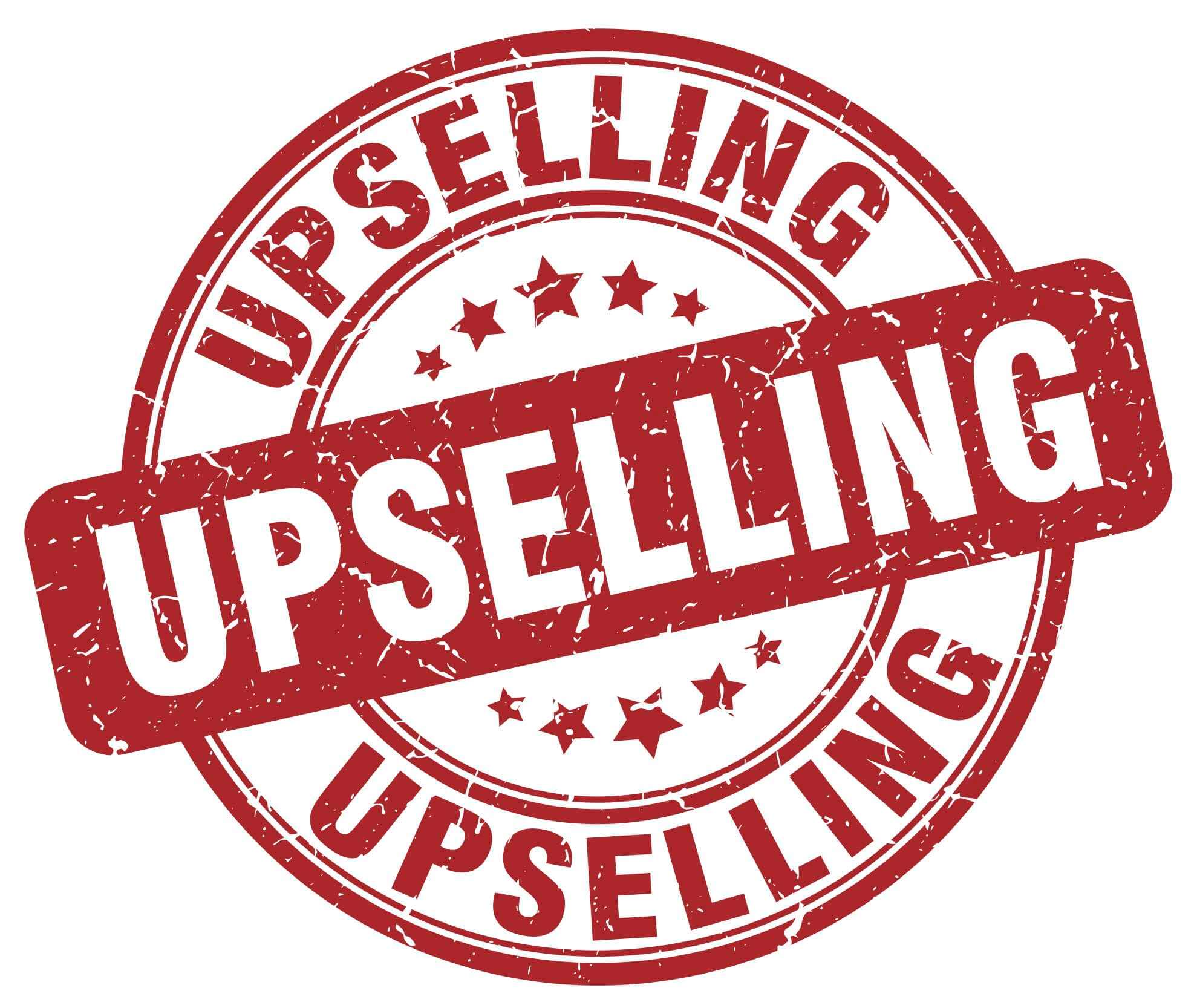 Last two weeks I've been completely into airline ancillary revenue. I started with the 2018 Global Airline Ancillary Survey and Research where we'll analyze how airlines use digital innovation for ancillary upsell. 
We'll build on the 2017 results, with even more focus on digital and innovation. After the first week, we got insights from 25 airline ancillary leaders which is already two more than we had last years. Exciting stuff!
Last airline digital black hole
In addition, this week I'm presenting at the AirFi Innovation Day 2018 about how airlines use in-flight entertainment (IFE) to create a digital touch point and build an onboard digital ecosystem.
The in-flight period is the last part of your airline customer journey that is in many cases still not digitalized. This is especially true for the low cost and intra-continental flights, where the ROI for expensive built-in in-flight entertainment systems is weak.
Earlier this year I did a survey of almost 100 airline and travel marketing professionals.  In the survey:
"54% identified digitalisation and connecting all touchpoints across the customer journey as the area with the biggest impact in 2018."
So we all want to connect all digital touchpoints, right? And now digital innovation from providers like AirFi allows airline enables airlines to implement portable onboard in-flight entertainment without a huge investment.
I was in charge of one such implementation back in my airline days and was now challenged to build an ancillary case for it. Basically, to show you how you can use it to do ancillary upsell and increase ancillary revenue.
I won't go into details of my presentation, you'll need to wait for my future blog posts for that 😉
Digital Upselling Learnings From My Trip
I just wanted to share with you my state of mind on my way to The Hague, Netherlands.  First, I was excited to fly Transavia to Amsterdam as I know they have a portable in-flight entertainment solution installed.
However, unfortunately not on this flight – still the traditional trolley and onboard announcements only.
The flight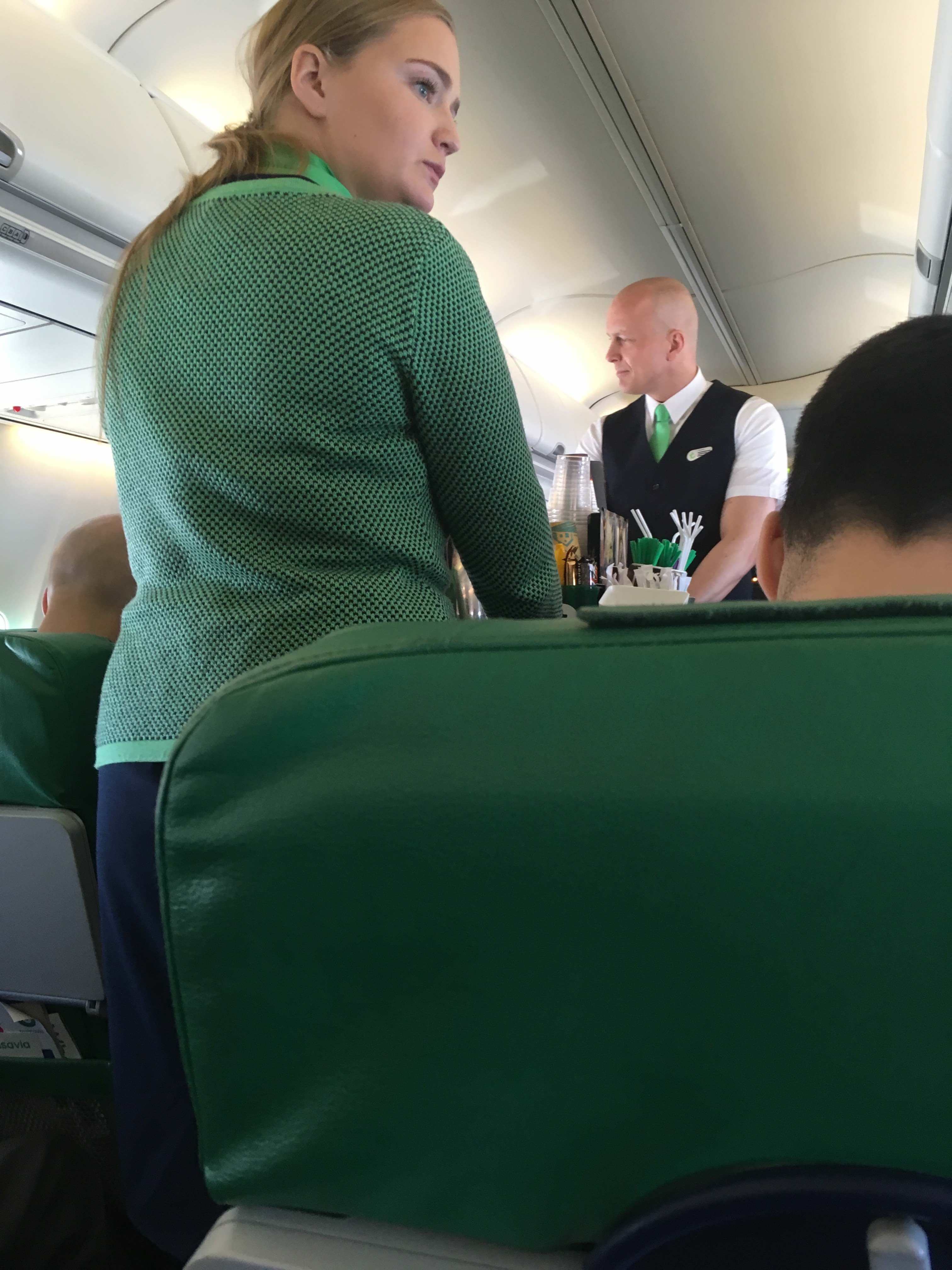 The flight itself was great though.
Facebook and the train
Next stop in my journey was the train from Amsterdam Airport to The Hague Central Station. Purchasing tickets was really easy as there are self-service kiosk all over the airport.
So, I was sitting comfortably on the train and checking emails on my iPhone. Then, as the train stopped in Linden the first Facebook notification pop-up appeared: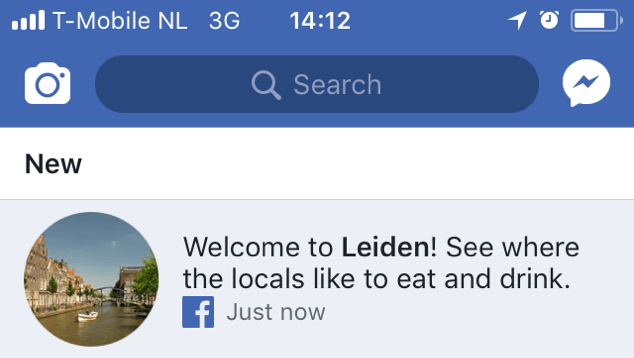 Facebook knew my location and was "upselling" hard their travel & places features.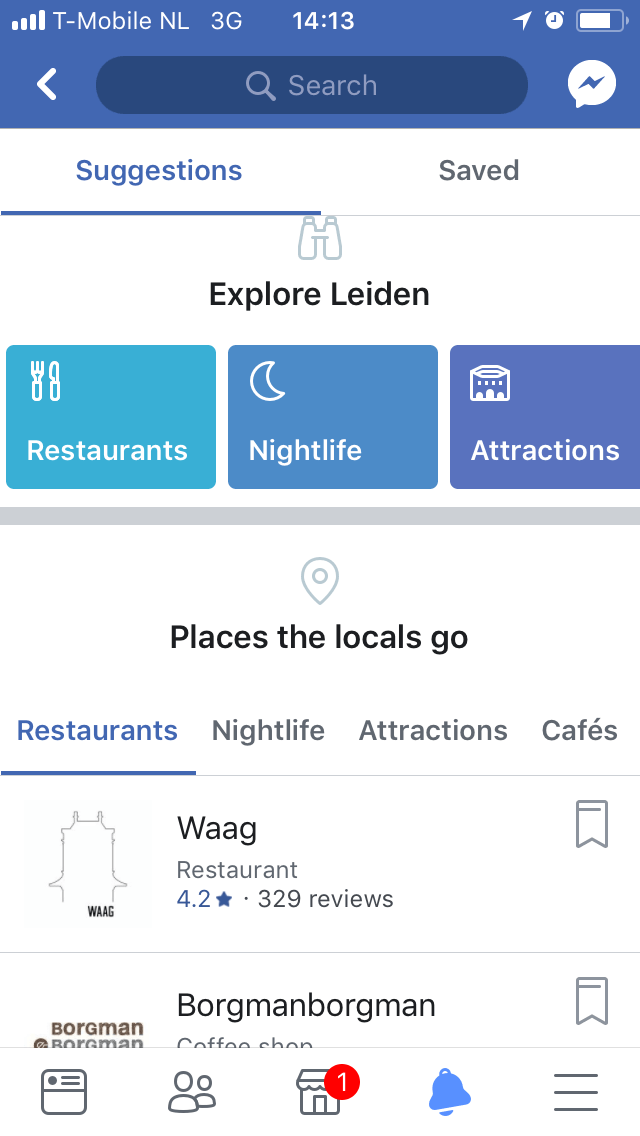 Why should this matter to you?
First, Facebook and Google really want their share of the travel industry pie. They are the two fastest-growing sources of hotel reviews since 2015.
Second, imagine your airline being able to send such targeted notification at every touchpoint of your customer journey. These days almost every airline is building some sort of a messaging or chatbot capability. 30% of our 2018 Travel Marketing survey respondents said they will invest in chatbots in 2018.
Airline conversational commerce and collaborative retail
Going back to my flight experience, think about what if you could have Facebook messaging access to your passengers in-flight.
There are tons of collaborative retail opportunities for airlines in the post-flight period.  Solutions like Grab help airlines take a share of the airport retail pie.  In this way airlines can be like Facebook as they have much more information about passengers than airports and retail shops.
Lufthansa did a pilot project with supermarket REWE, which allows passengers to buy groceries using the carrier's on-board Wi-Fi service. Passengers then get their groceries delivered to their home address.
I would be really impressed if I got a message on my return flight from my vacation saying:
"Iztok, unfortunately your vacation is over, now back to reality. Your fridge is probably empty, can we help?"
Airlines, you have my data to do this: my flight dates, destination, my family members info. Using this data it's not difficult to identify the purpose of my trip and identifying my next steps.
Remember, good ancillary upsell is all about the next step and solving your passenger's needs.
World's Most Famous Ancillary Upsell Line in (digital) Action
Back to my story. I was so busy thinking about all this that I forgot I was hungry. On the way to my hotel, I saw a McDonald's restaurant and said to myself, why the hell not.
Then this happened.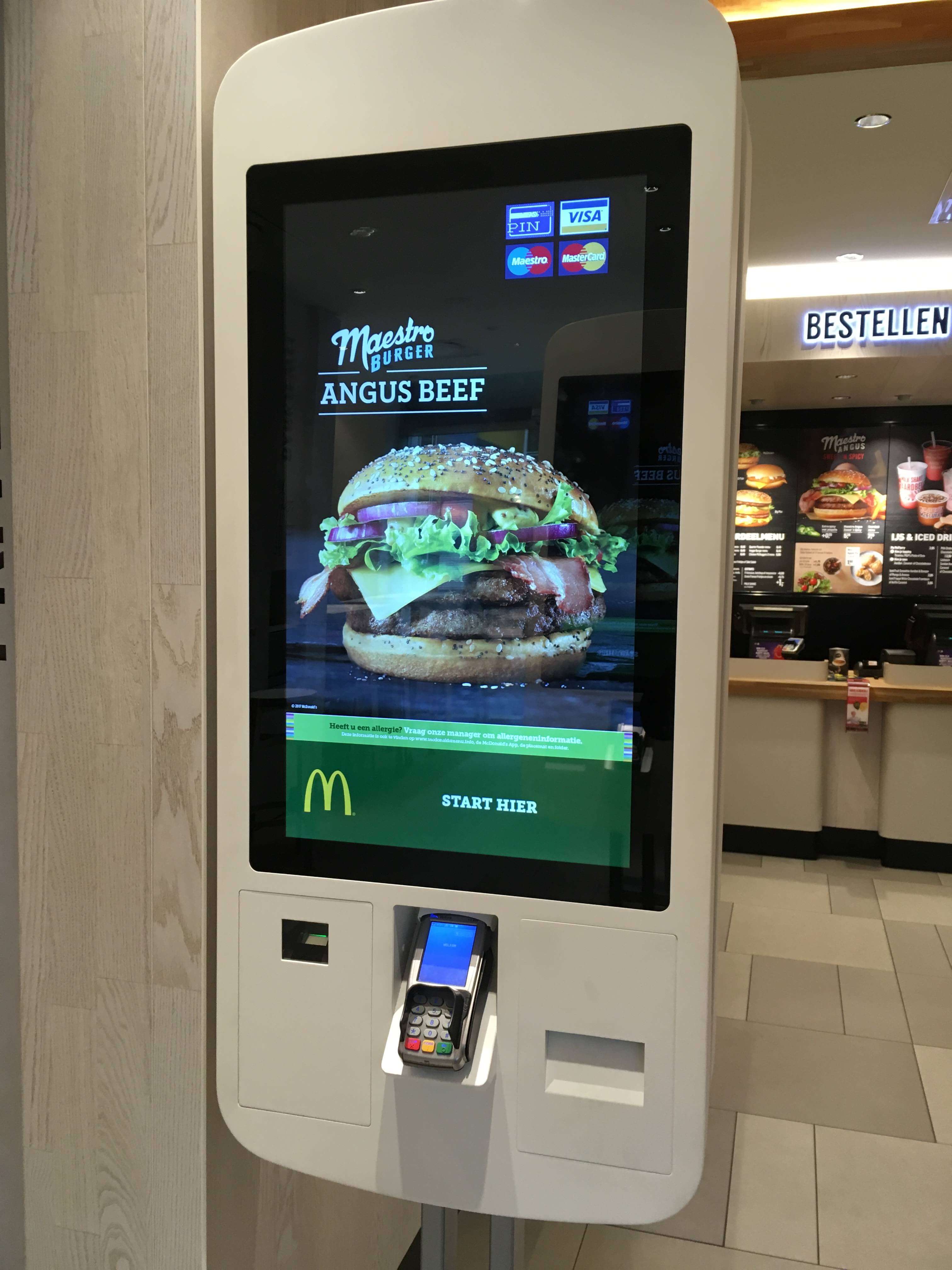 A McDonald's self-serving kiosk. Being a digital junkie, of course, I wanted to try it. So I started my order.
 I really wanted a burger, maybe to go and then back to my way to the hotel. Of course, McDonald's had other intentions 🙂
The world's most famous ancillary uspell line – "Do you want fries with that?"  just got digital: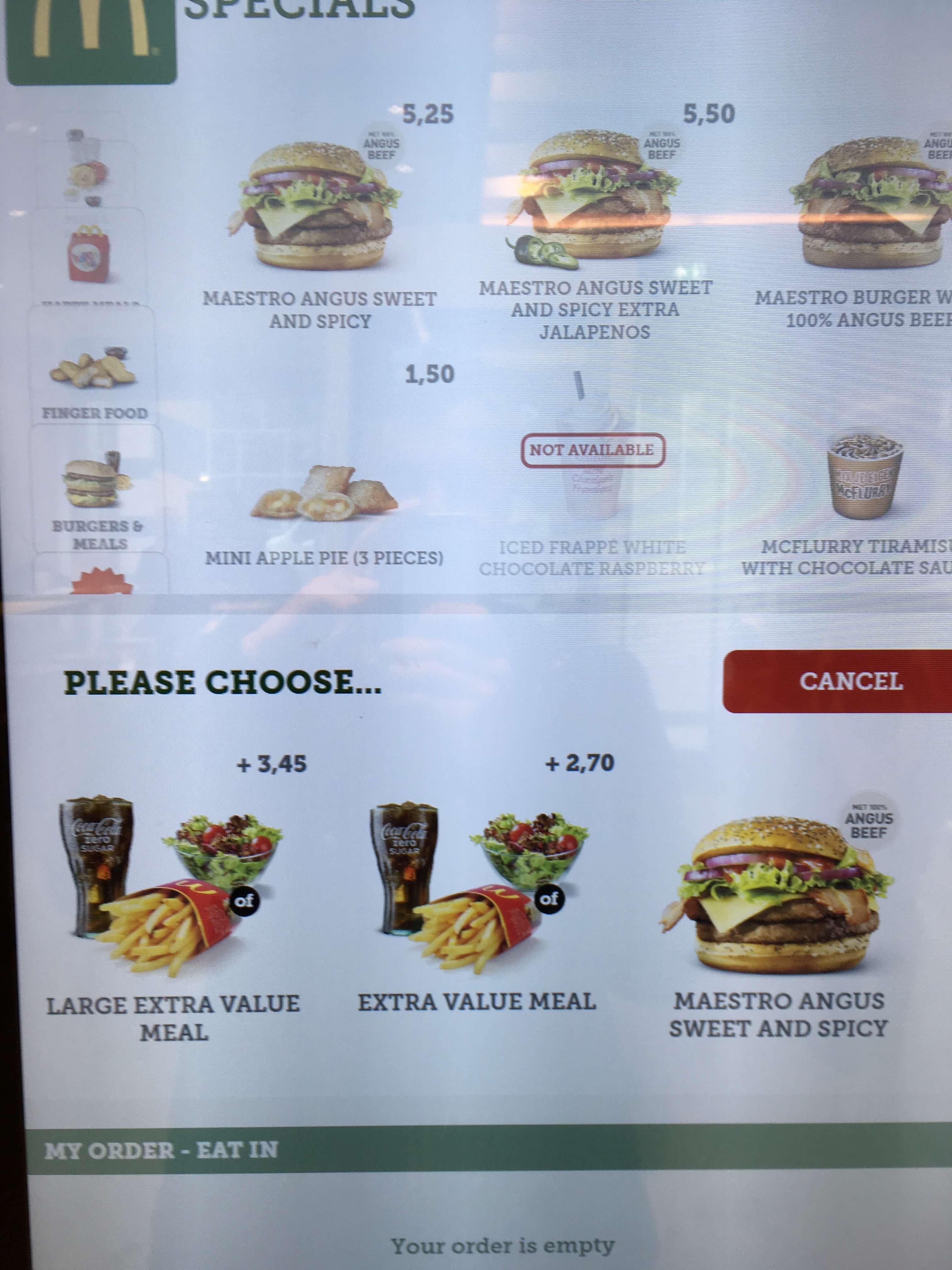 They added a few desert recommendations at the end: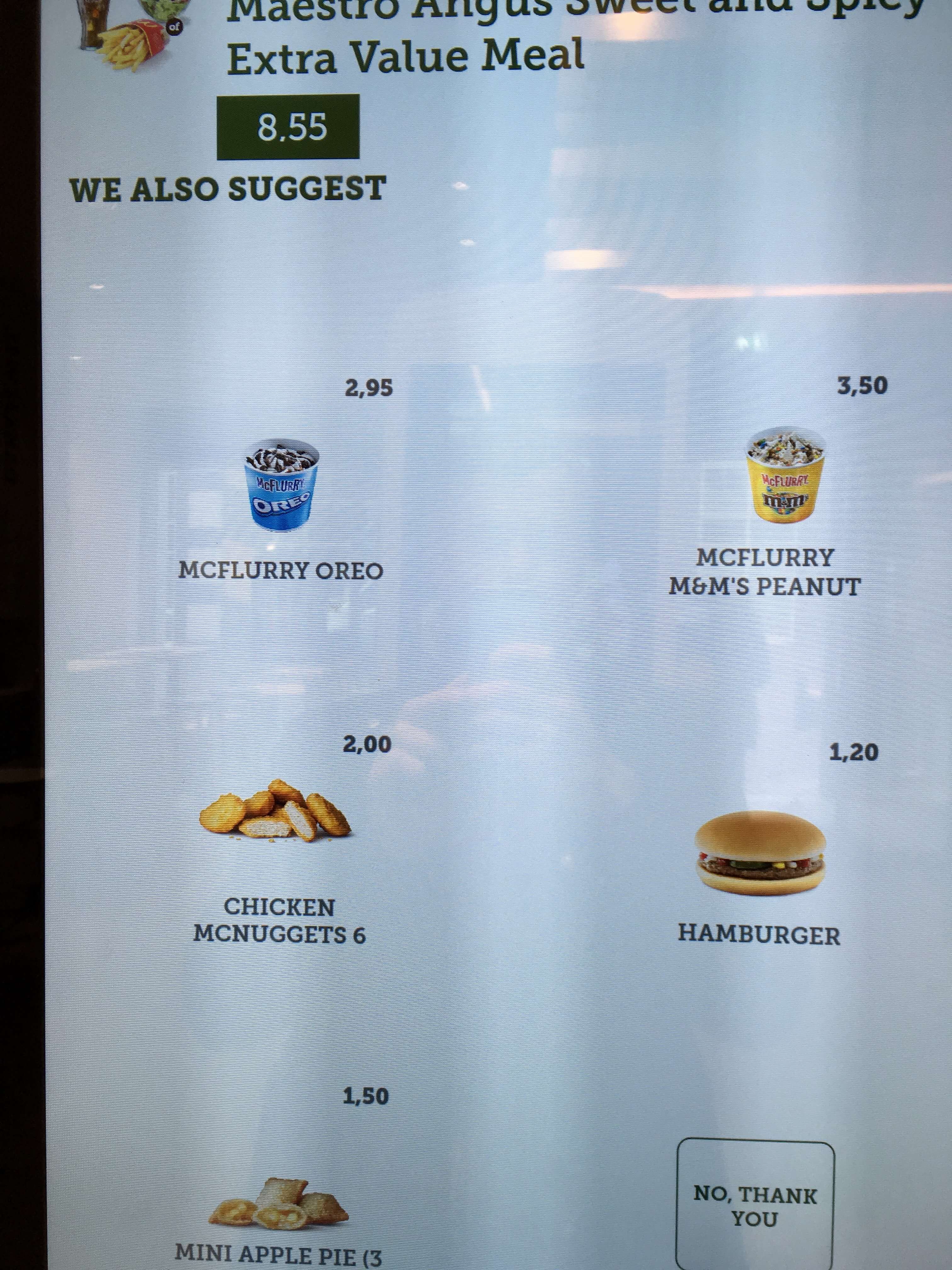 The experience was so seamless and intuitive that I don't remember how I ended up sitting at the window with a full-blown menu and a dessert on top.
Reflecting back on my whole trip and the experiences I wondered again about my flight. Imagine what airlines can do with such digital experience in-flight (or at any other digital touchpoint). To take it further, compared to McDonald's airlines have way more data about our customers.
We just need to use it smartly. And learn digital merchandising and ancillary upsell from the best.
What Should You Do Next?
To learn more about ancillary upsell and merchandising:
Iztok Franko
I am passionate about digital marketing and ecommerce, with more than 10 years of experience as a CMO and CIO in travel and multinational companies. I work as a strategic digital marketing and ecommerce consultant for global online travel brands. Constant learning is my main motivation, and this is why I launched Diggintravel.com, a content platform for travel digital marketers to obtain and share knowledge. If you want to learn or work with me check our Academy (learning with me) and Services (working with me) pages in the main menu of our website.