Airline Digital Transformation Case Study [Eurowings Digital]
Iztok Franko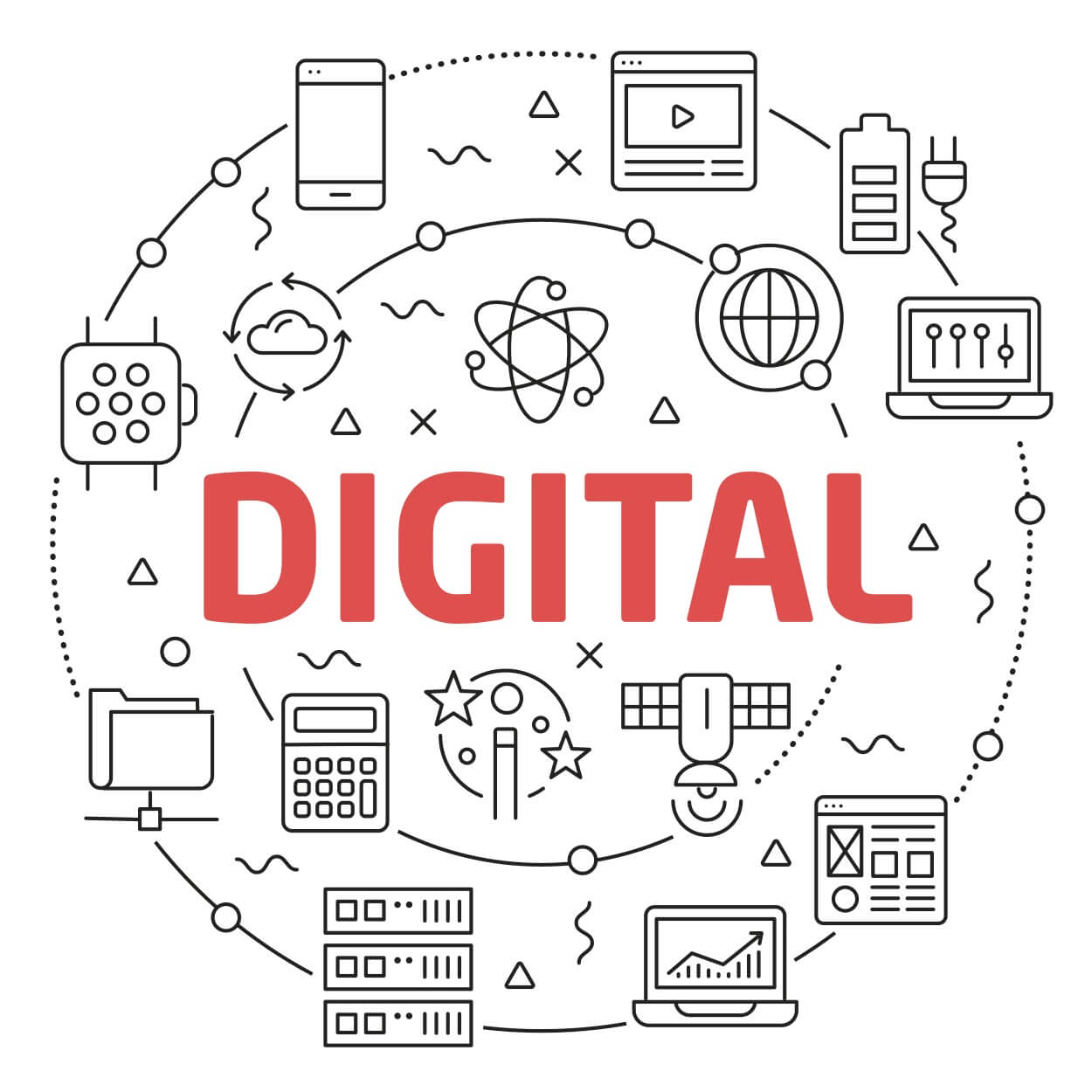 Do you know the two top airline search terms on Google? If you guessed "airline digital transformation" and "airline ancillary revenue," you got it right. And right after digital transformation comes digital innovation.
If you don't believe me when I say that the airline digital transformation narrative is a really hot topic, ask Qantas chief executive Alan Joyce. In his recent interview for The Australian, he predicted the airline will have more digital workers than pilots or engineers in the next decade because of the emphasis within the business on digitalization.
Now, imagine Qantas has more than 3.500 pilots employed. It makes you think, right?
Furthermore, Lufthansa Innovation Hub recently tracked the airlines with the strongest digital narratives and airlines that are recruiting the most digital talent. From their charts below, you can see that at least 20% and up to 33% of airlines' open roles are digital ones.
Airline digital transformation plus ancillary revenue = digital retailing?
When I was doing our 2019 Airline Digital Retailing research, I was really on the lookout for airlines that were focused on growing ancillary revenue via smart digital retailing. As a result, when I was doing the research, one headline really caught my attention.
It was in an article about Eurowings, a German low-cost airline and a wholly-owned subsidiary of the Lufthansa Group, and their digital and ancillary strategy. Their Managing Director and CCO, Oliver Wagner, said they want to be more than an airline:
Eurowings is becoming a 'travel companion' for its customers, far more than just an airline offering flights from A to B.
Mr. Wagner was also talking about their airline digital transformation: how they plan to recruit up to 120 new employees over the next few years to work in the airline's ecommerce and customer departments. He also spoke about developing new digital products and digital services.
Now, you're probably asking, what exactly is a travel companion? Will they become an OTA?
It certainly intrigued me, so I decided to talk to the people behind Eurowings' digital transformation strategy.
A Peek Inside the Eurowings Digital Transformation
To understand what they're doing in order to change their mindset from that of an airline to that of a digital company and why they split all their digital retailing into a dedicated company (Eurowings Digital), I talked to Sandun Dissanayake, the Strategy Manager at Eurowings Digital.
The first thing you probably want to know is about Sandun's background and how he got to Eurowings Digital in the first place:
I joined Eurowings about five years ago. I was in different roles in operations and then mainly in group strategy. There I was really focused on our digital strategy for Eurowings Group, and one of the initiatives was to start Eurowings Digital. [Eurowings Digital] was a spin-off from our internal ecommerce function. So, I joined Eurowings Digital in February and am leading strategy and portfolio management.
For digital transformation and digital retailing, you need a mindset shift
Before going into the details about Eurowings Digital as a digital company, I was interested in how they look at airline digital retailing and ancillary revenue. Even more than that, I wanted to see how it all fits into their overall digital transformation strategy.
Ancillary was always one of the main drivers of our revenue. However, compared to ultra low cost carriers (ULCCs), such as Ryanair and Wizz Air, we have some ground to cover. We've always had a higher yield than these carriers, but this is now at risk. So, for us this is a big opportunity to leverage more revenue from the ancillary services. We also see that the yields in the industry are declining due to consistent pressure in the market. Yields are dropping, and especially in our German market this is a big pressure, because it's always been a high yield market. So, now for us the strategy and the main drive for revenue will come from ancillary services, which will have to counterbalance the losses in declining yields.
The shift to retailing and ancillary that Sandun is talking about is interesting. You can't make this shift only with the strategy and technology; you need to also make a shift in skills and mindset.
So, I asked him how they look at the shift in mindset and shift to new skills needed to be successful at digital retailing.
That [shift in mindset] is actually the main point because it's not only the technology. It's also not only the skills, but it's also a general mindset change. A lot of traditional airlines are focused only on selling tickets and the ancillary services are just an add-on. But now, with our mission to become a travel companion, the ancillary services or all the services that add to the traveler experience are coming more and more to the foreground. So for us, it is really important to have this mindset change of how we sell and then set the skills in terms of the ecommerce excellence capabilities that we need in order to be a real retailer.
To become a real digital retailer, you need to look outside the airline industry, right?
Yes. We're not really comparing [ourselves] to other airlines, but to fashion or other ecommerce natives. That's a main shift in our business which requires new skills that we need to set up. That's why we're also hiring fresh people that are not coming for the airline industry. And we also need the technological change.
How to transform an airline flight booking engine into a digital travel companion? 
However, Eurowings is not only talking about the transformation of digital retailing, but also how to sell more than flights. Their mission is to become a travel companion that provides digital products and digital services. The concept of a travel companion was really interesting to me, so I asked Sandun to tell more about it:
For us the focus will change from being just a flight-centric booking platform to really becoming a customer-centric travel platform. That means that we're starting – we're not there yet, but starting to expand along the customer journey, because we realized that for the customers, the travel is really not just about the flight. It's really about the experience and about what they actually want to achieve. It's about the festival they want to go to, or that they want to visit their parents in a different city, etc. So, it's really about the goal of the customer and trying to find out what the customer really wants on this journey. We're trying to accompany the traveler on each step towards his or her goal.
If you are an airline person, you'll probably agree that becoming a travel companion sounds quite ambitious. So, how do they plan to do this?
First of all, we need the right products in our portfolio. Of course, we have the flight as our 'core,' but also expanding into hotels, transfers, maybe at some point music and festival tickets, and so on. But we need to start even before this – at inspiration. The part that we launched already is called Horizons. It's a completely new platform for generating ideas and inspiring people to travel, which then links to our booking platform.

And we do all this by letting customer know we are there for them. The servicing part is really crucial, because most of the airlines are only focusing on the technical part – let's say how they will integrate, for example, a hotel partner. But we really want to differentiate that we really care about the customer, and that is really about the servicing.
This last point is key for your airline if you want to become better at digital retailing and start selling more than just flights. It's not only about finding and providing an API or third-party white label (for hotels, rental cars, transfers, etc.); you need to provide customer service for the entirety of the customer journey.
By becoming a companion you can become more relevant (and increase customer frequency)
When Sandun talked about adding music and festival tickets, it really made me raise an eyebrow. One problem you (and all of us) face as airline marketers is that when we're selling only flights, we're not that relevant to most people. Apart from high-frequency business travelers, most people fly once or twice a year, which makes it hard for airlines to engage with their customers and stay top-of-mind. So, I asked Sandun if Eurowings Digital sees adding other services (ones their customers need more frequently) to their portfolio as something that can help with this challenge:
Yes, this is actually a very good point. Airlines apps are typically less frequently used, as a leisure traveler usually travels two or three times per year. Of course, if we now create more touchpoints by having more [relevant] signals to the customers, this increases our engagement with them. We can learn more about the customers, and also we have more opportunities to retail things to them. So, it's kind of a closing circle, right? We offer our customers more options, they engage with us, and we can learn what they want and need. Than we can offer them more services and they engage with us again.
Now, Eurowings Digital is really serious about adding different travel and transportation services to their portfolio. In the past year, they added Flixbus for bus services and TaxiTender for taxi service. They also started distributing other airlines' (Norwegian Air Shuttle and SunExpress) tickets through virtual interlining.
Airline Digital Transformation – Do you need a separate digital company?
You've probably heard many people and airlines talk about airline digital transformation before. I for sure have heard about many airline digital transformation initiatives, and they look really nice on PowerPoint slides. However, the reality is that digital transformation and having the digital mindset is really difficult to do in practice. This is why the Eurowings case was really interesting to me. You probably don't create a separate company (Eurowings Digital) if you're not serious about it, right?
So, the last thing I wanted to talk to Sandun about was exactly that. What is the role of Eurowings Digital in their digital transformation, and how is Eurowings Digital integrated with the parent airline company? And why a separate company in the first place?
Eurowings Digital is a daughter company of Eurowings. Now that we are a separate entity, we have an opportunity to work in different structures. We evaluated if we would do this whole initiatives of digitalization within the Eurowings group, but we decided against it because there is a general issue of working in different working models.

If you look at the traditional airline business, you have very rigid structures. Of course, there are a lot of regulations and restrictions because they care about safety, and that's the main priority, for good reason. But in the digital world, in order to be more customer-centric, you need to be more agile.
MVPs are a must for developing digital products, but not for airplanes
To explain the difference between a traditional airline environment and an agile digital one, Sandun used a great example:
In the digital world, you need to work with MVPs (minimum viable products), and that doesn't work in the traditional airline world, right? Nobody wants to fly an MVP plane.

"That's why we differentiate so much, and that's where the business models kind of collide. That's where we decided, okay, we have two different setups: we have the airline company that needs to be in a stable environment and the digital company that really needs to be in an agile and flexible environment.
This sounded really interesting to me. But I still wasn't sure whether Eurowings Digital is essentially a separate digital and development unit of Eurowings, or whether it is also responsible for the digital retailing I discussed with Sandun at the beginning of our talk.
We are primarily focusing on our ecommerce platform. Our role is not to automate processes or digitalize processes in the aviation part of Eurowings. We have a separate IT function there, to create lean structure and digitalize processes. Eurowings Digital has a primarily commercial focus. So, we are really focused on pushing forward our ecommerce platform. We manage and host the ecommerce platform.
And it doesn't stop with that. Eurowings Digital also executes all digital and ecommerce activities, like creating content, executing promotional activities, and creating upsell and cross-sell campaigns:
Yes, we have a sales function, which is taking care of all the online sales activities. Also, we have a portfolio and ancillary function which is responsible for getting the right partners on board for our adjacency strategy. But right now, because it makes more sense and we see a lot more potential, as I mentioned in the beginning, we're really focusing on flight ancillaries – I mean bags and seats and so on – because the perception of the customer and the brand is a lot closer. There is a lot of potential there right now.
Do You Want to See More Airline Digital Retailing in Action?
If you liked this Eurowings Digital case study and want to learn even more, we have you covered:
Iztok Franko
I am passionate about digital marketing and ecommerce, with more than 10 years of experience as a CMO and CIO in travel and multinational companies. I work as a strategic digital marketing and ecommerce consultant for global online travel brands. Constant learning is my main motivation, and this is why I launched Diggintravel.com, a content platform for travel digital marketers to obtain and share knowledge. If you want to learn or work with me check our Academy (learning with me) and Services (working with me) pages in the main menu of our website.