The Only Formula for Increasing Online Sales on Your Travel Website
Iztok Franko

This is the one and only formula you need to increase online sales on your travel website. If you understand this formula, you are on the right path to increasing your number of online bookings and your online revenue.
Focus on all variables in the formula and you will be successful. Don't make the mistake that most travel marketers do – focusing on just one (usually the first) part only.
So, here is the ultimate formula you can use to increase your online sales for your travel website: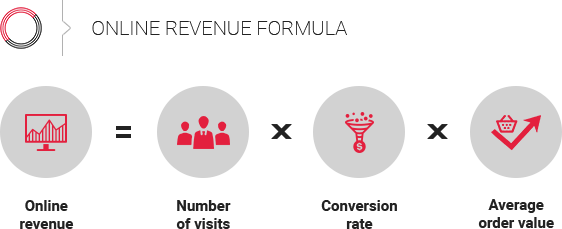 Basically, all your efforts to increase your online sales should be in one of these three areas. You can read more and learn about each area in detail in the following three blog posts:
#1 – Increasing the number of website visits (PART 1 – Customer Acquisition)
Click & learn how to achieve this »
#2 – Increasing the conversion rate (PART 2 – Conversion Rate Optimization)
Click & learn how to do this step »
#3 – Increasing the average order value (PART 3 – Master Upselling and Cross-selling)
Click & learn how to master this »
Linear vs Exponential Online Sales Increase
It is really crucial that you focus on each element of this formula. Read all three blog posts carefully to understand how each part of the formula contributes to your total online revenue. Based on the input from all three posts, you can create or adjust your consolidated digital marketing and ecommerce strategy.
Increase only one part of the formula, and you will grow linearly. Increase all three parts, and you will grow exponentially.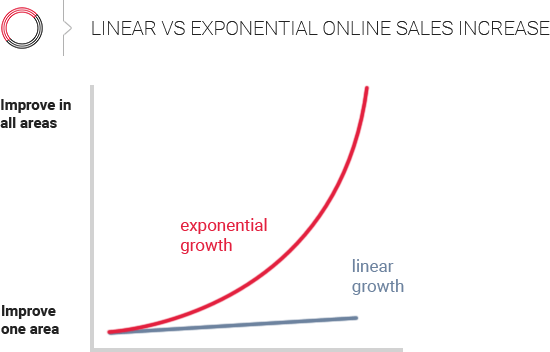 Look at the following case:

Let's say you increase your traffic by 30%. If conversion rate and average order stay the same, you will increase your online sales by 30% in total. However, if you manage to achieve an increase of 30% (which is not a huge increase) in all three areas, your total results will be 220% growth.
Exponential online sales increase calculator
You can use the FREE Diggintravel Exponential Online Sales Increase Calculator to simulate the effect of an exponential vs linear increase on your numbers. The goal of the calculator is to help you understand the impact of increasing online sales exponentially.
Always have this in mind, as it is the real difference between slow and rapid online sales increase. In today's competitive online world, you will need to grow exponentially to beat your competition.
Conclusion
Print this formula on the wall in your office, or at your home. You need to understand each element in the formula, to increase your online sales. Create a plan for each element, and then put them together into a consolidated digital marketing strategy. Remember, small linear increases in each part, will result in exponential increase of your online sales.
Start now with the first step of  increasing your online sales – PART #1 – Customer Acquisition.
Iztok Franko
I am passionate about digital marketing and ecommerce, with more than 10 years of experience as a CMO and CIO in travel and multinational companies. I work as a strategic digital marketing and ecommerce consultant for global online travel brands. Constant learning is my main motivation, and this is why I launched Diggintravel.com, a content platform for travel digital marketers to obtain and share knowledge. If you want to learn or work with me check our Academy (learning with me) and Services (working with me) pages in the main menu of our website.