Ancillary Revenue Framework (Post-Booking)
Iztok Franko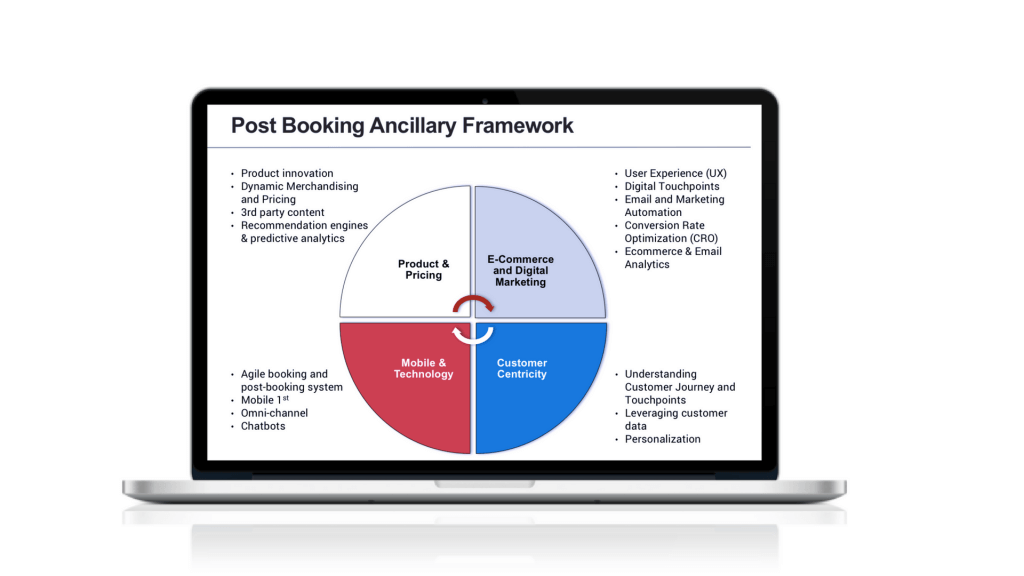 In short, the Ancillary Revenue Framework (Post-Booking) was designed based on the hands-on experience and best practices of those in the ecommerce and airline industries. If you are an airline ancillary revenue professional, this framework can help you increase your ancillary revenue. It provides you with a step-by-step maturity evaluation for the four key areas and guides you in how to advance your skills in each area. This framework was first presented at the 11th Ancillary Merchandising Conference in Mallorca. You can read about why you need to master post-booking if you want to become an airline ancillary revenue leader here.
The idea to create an ancillary revenue post-booking framework was conceived during the typical airline – IT solution provider discussions. Experiences and research from various airline booking and post-booking engines (IT solution provider's view) provides one piece of the puzzle. On the other hand, real practical experience from implementation of ancillary strategy (airline ancillary professional's view) can be even more valuable for you as an airline professional. The final aspect was gathering ecommerce upselling and cross-selling best practices (digital marketing professional's view) that can help you improve your e-retailing skills.
Four Key Areas of the Ancillary Revenue Framework
As a result, we identified four key areas you can work on, which are laid out in the framework. If you want a successful ancillary upselling and cross-selling process, you need a consolidated strategy that integrates all areas. These areas are:
Product & Pricing
Ecommerce & Digital Marketing
Customer Centricity
Mobile & Technology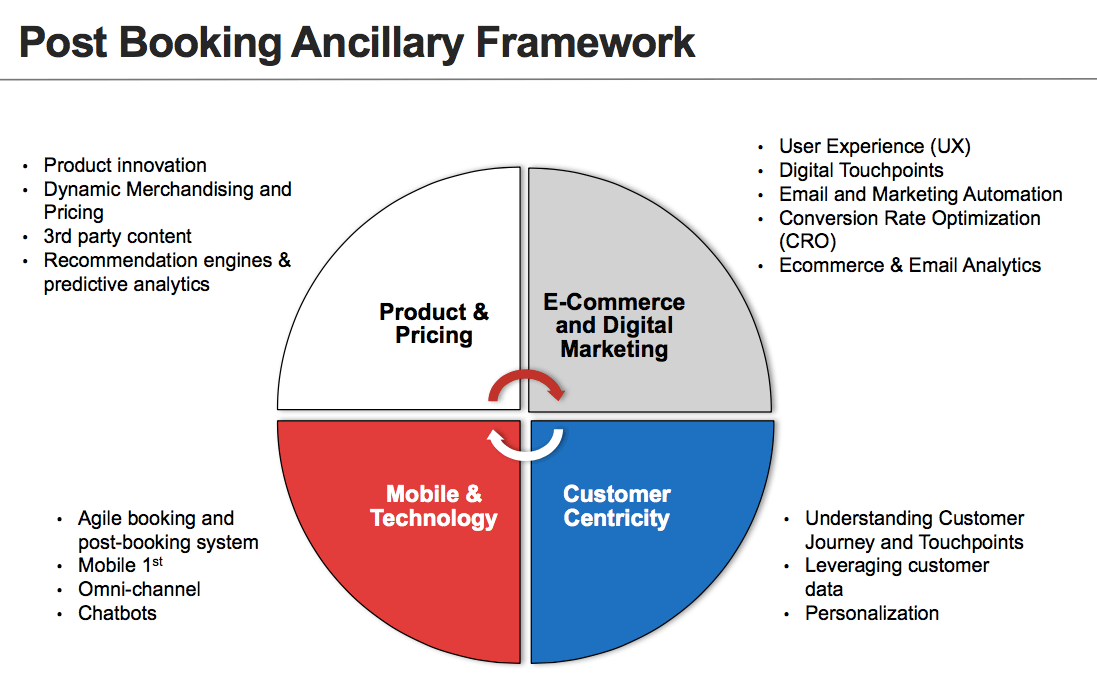 Ancillary Revenue Survey to Validate Framework
However, we wanted further validation of the framework. This is why Diggintravel and Switchfly conducted a survey that included 23 airline ancillary revenue professionals. You can learn more and review the full results of the Global Ancillary Revenue Survey results here.
Most of all, our survey was primarily designed to get real feedback from airlines about their processes and tactics in each of the four key areas. Based on the survey results and analysis, we fine-tuned the framework. Additionally, we created guidelines you can use to benchmark your processes and plan your next steps in each area.
Post-Booking Maturity Model
One of the first findings from the survey was that many airlines are at different maturity stages in each area and process. Therefore, we first created a step-by-step post-booking ancillary revenue maturity model for each of the four key areas. Based on this framework, you can assess the maturity of your processes. In addition, you can find survey stats to benchmark yourself against the ancillary revenue leaders.
 
Who Is This Ancillary Revenue Framework For?
Ancillary revenue professionals in charge of creating ancillary revenue strategy or managing the ancillary processes
Ecommerce and digital marketing professionals who run ancillary promotions or other upselling and cross-selling campaigns
IT professionals who manage and develop ancillary revenue booking and post-booking platforms
Airline IT solution providers and other vendors who provide ancillary revenue solutions and services
Others who want to learn more about ancillary revenue post-booking best practices
Learn More –> Download the Framework (PDF Version)
Download the PDF version of the ancillary revenue post-booking framework here. Additionally, if you want the Global Ancillary Revenue Survey PDF Report, you can download it here.
In the future, we'll dig in (we are Diggintravel, after all!) deeper into the four key areas and provide you with more guidelines for the key processes of each. Make sure you download the framework and subscribe to our newsletter to be the first to receive new materials!
Iztok Franko
I am passionate about digital marketing and ecommerce, with more than 10 years of experience as a CMO and CIO in travel and multinational companies. I work as a strategic digital marketing and ecommerce consultant for global online travel brands. Constant learning is my main motivation, and this is why I launched Diggintravel.com, a content platform for travel digital marketers to obtain and share knowledge. If you want to learn or work with me check our Academy (learning with me) and Services (working with me) pages in the main menu of our website.